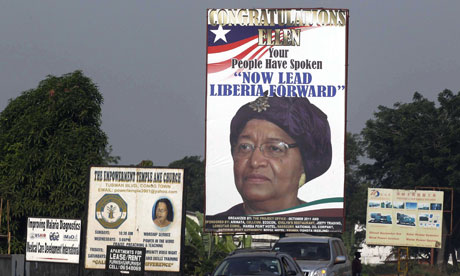 Billboards after President Ellen Johnson Sirleaf's re-election
The campaign to declare Liberia a Christian country gathers pace (
previous blog post here
).
On February 18 rallies were held in which thousands of people are said to have lined up to sign the petition. The leaders of the campaign are looking for a million signatures (out of around
4m population
). They claim to have
45,000 already
, more than enough to start the process for constitutional change.
The government seems a little wrong-footed on the issue:
Among the first batch of signatories were police and military officers fully dressed in their uniforms as well as some members of the House of Representatives and other public officials. ...
At a recent Church ceremony in Monrovia, President Ellen Johnson Sirleaf declared that Liberia is predominantly a Christian State, but was accommodating other religions. (report)
However,
here
Speaking over the weekend while signing the book seeking one million signatures to make Liberia a Christian nation, Senator Taylor [a leading light in the campaign] said Liberia has a Christian dominance and there was a need to revert to the 1948 Constitution by declaring Liberia Christian state.
Providence Baptist Church, Monrovia
There are differences amongst Christians on the matter. This report also alluded to a dispute with the Old Providence Baptist Church, apparently over tactics, and in
another report
,
Archbishop Lewis Jerome Zeigler of the Catholic Archdiocese in Monrovia says he is opposed to schemes by some members of the Christian denomination "to return Liberia into a Christian nation."
"That (soliciting signatures to make Liberia a Christian nation) shouldn't be the point. We can remain a circular [secular?] state without disturbing others who believe in whatever they believe to practice their faiths...and we'll be the Christians that we are called to be," His Grace Zeigler told journalists Wednesday in an interview in his office here. ....
But, in his interview, the Catholic Archbishop denounced the call to declare Liberia as a Christian state, and reiterated that 'Christian principle' means "love for one another". ...
"I think something is wrong with this particular thing," he added.
There are other critics too. Some see the campaign as no more than an attempt to
fuel sectarian violence
.
Mr. Fofana Bility, a Liberian Muslim residing in Monrovia has cautioned. He thinks, changing the constitution to Christianize, Liberia will expose the country to instability and undermines peaceful coexistence amongst citizens of Liberia, who he further observes are from diverse religious backgrounds. (Report)
Whether or not sectarian violence is the intent, it will almost certainly be a consequence of both the campaign and its outcome.
The website of the
Anglican Episcopal Diocese of Liberia
doesn't express a view on the matter.