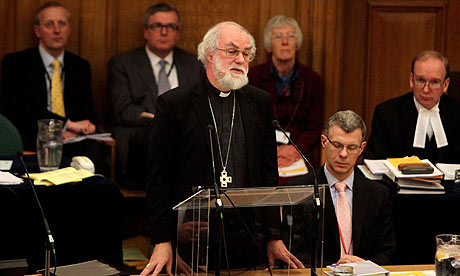 From The Guardian, with the caption: The archbishop of Canterbury who said 'The covenant is not envisaged as an instrument of control.' Photograph: Katie Collins/PA
The launch of the
Modern Church
/
Inclusive Church
campaign against the Covenant has been reported by
Ekklesia
~
Thinking Anglicans
~
The Lead
~
Riazat Butt, The Guardian
~
Episcopal News Service
~
and from there by others.
Graham Kings, on the
Fulcrum
site, says the matter should go to the dioceses:
The irony of this campaign - to reject the Anglican Covenant at General Synod in November and not allow it to be discussed by the dioceses of the Church of England - needs to be noted. Those who are calling for less centralised control wish to highlight the centralised control of General Synod to block any discussion in the dioceses...
As one of the comments on his post says, no-one is stopping debate elsewhere in the Church. The fact is that there has been far too little discussion to date, and I think that's been deliberate - other Provinces have prepared discussion material. One, Mexico, has decided the issue and others have yet to begin debate. There is no need to rush - unless, of course, you think the CofE should set a lead to be followed by others.
There is a question of the terms by which the Covenant is sent to the dioceses. If it's commended or approved in principle or goes with some other similar blessing then (I guess) it will skew debate in favour of the Covenant. If the Covenant is merely 'noted' there may be some chance for a less biassed start to discussion.
And, speaking of centralised control,
Clause 1B of Section 8
says
The General Synod may by resolution provide that final approval of any such scheme as aforesaid, being a scheme specified in the resolution, shall require the assent of such special majorities of the members present and voting as may be specified in the resolution, and the resolution may specify a special majority of each House or of the whole Synod or of both, and in the latter case the majorities may be different.
As I understand it the Synod is not to be given the option of discussing special majorities - 50% plus 1 will do, and that's final.
The business managers have, I suspect, done their masters' bidding and planned things well.